Description
Most veterinarians encourage new puppy parents to crate train their beloved dogs. If started early, our canine companions will grow to love their crate at bedtime, when the human family goes out, or just to take a midday nap.
And thanks to the beautiful craftsmanship offered by Pinnacle Woodcraft, the days of a clunky, metal crate creating an eyesore in your home are over. Crafting beautiful wooden pet furniture to match your décor, Pinnacle Woodcraft designs pieces of wood dog furniture just as functional as they are beautiful.
But a common concern amongst many dog owners is that their pet will chew wood furniture . If your fur baby loves to chew, a metal crate may still be the best option to protect the rest of your home. Luckily, the Amish craftsmen of Pinnacle Woodcraft have thought of that, too.
Offering the best of both worlds, your faithful friend needs the 
Chew Proof Dog Crate
 with Wire Strips. Enjoy a premium piece of wood dog furniture, available in multiple all-natural wood and stain combinations that are reinforced throughout with a wire lining to protect the crate itself.
Doubling as an end table with an optional lift up top for storage, this high quality crate boasts a chew proof environment for your pet. Easy to assemble at home, it is recommended to purchase a plastic pan for the interior to help contain messes. Additionally, pet mattresses are available to ensure a perfect, comfortable fit for its precious occupant.
Stylish, safe, and guaranteed to elegantly match any home's interior, the Chew Proof Dog Crate with Wire Strips is sure to be cherished by you and your dog alike – not to mention it will serve as an excellent conversation starter with company!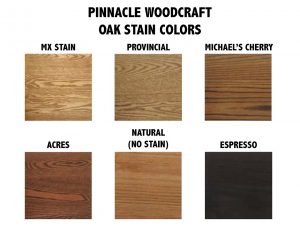 Thanks to a subtle lattice of  wire lining the interior of your new wood dog crate, your friends and family will be complimenting its beauty for a lifetime – Amish craftsmanship has a good name for a reason, and all our solid wood pet furniture is handmade by the best.
And with a protective pan to make cleaning super easy,or a 3 inch thick therapeutic mattress custom made to fit your crate for your dog.
If the wire dog crate doesn't match living room decor,consider our other wood dog crates.
Preventive and safe solution for dogs that chew
Solid wood pet furniture – oak or brown maple with subtle 2" wire lining
Available in 16 choices of finish – 10 in oak wood and 6 in maple wood
Easy to assemble with our patented quick-connect fasteners (included)
Small 12 x 20 x 23″ H Inside 16 x 24 x 24 H Outside
Medium 18 x 24 x 29 23 x 29 x 24 H Outside
Large 22 x 30 x 24 27 x 34 x 24 Outside
Entertainment center without drawer Extra large 24 x 36 x 27 inside 28 x 40 x 28 outside
with drawer 24 x 36 x 27 28 x 40 x 36
Entertainment center Jumbo without drawer 27 x 42 x 30 32 x 46 x 31
JUmbo No available unless they pickup here or get local shipping or contact us.